"Harry The Nazi"
Historian David Irving Comments on Prince Harry: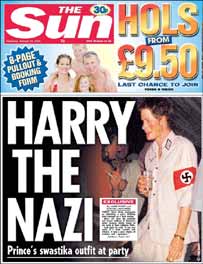 .. Earlier today I expressed on this website the hope that nobody will remember that Prince Philip (the Duke of Edinburgh) has or had four sisters all of whom were in Nazi Germany during WWII, married either to SS-Obergruppenführers, Nazi gauleiters, or Hermann Göring's chief of Intelligence, the Prince Christian von Hesse; and that as for the father of Princess Michael of Kent, he was of course an Austrian SS Obergruppenführer.
Yes, there is lots that still has to come out.
King George VI
loathed
Winston Churchill
(see the papers of
Harry Hopkins
and the diary of
Mackenzie-King
); his
Queen Elizabeth
plotted secretly with certain British admirals to overthrow Winston in the summer of 1940 and accept Hitler's peace offer. This is what the secret records will eventually reveal.
... I rather fear that they have achieved the unique feat of turning the young man who is third in line for the British Throne into a committed anti-Semite, from this day on.
And now we read that
:
Harry refuses to to go Auschwitz