Knowing The Right People...
Another great news contribution from David Irving's newsletter Action-Report On-line:
Daughter of Israeli ambassador to U.K. freed from Peruvian jail after just 18 months - a heart-warming little tale involving drugs, influence, and a (prison) beauty pageant. Ten pounds of cocaine were found on Miss Lee Heifetz (right)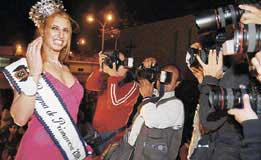 as she boarded a flight from Peru. Peru then nabbed 14 other young Israelis in this international drug smuggling ring. Until now her father had persuaded Ha'aretz to keep mum "saying it would disrupt his efforts to secure her release". Real reason: during the paper's silence, Daddy was named Israel's ambassador to London. Tony Blair evidently approves.